Meet Our Winemaker
Duane Dappen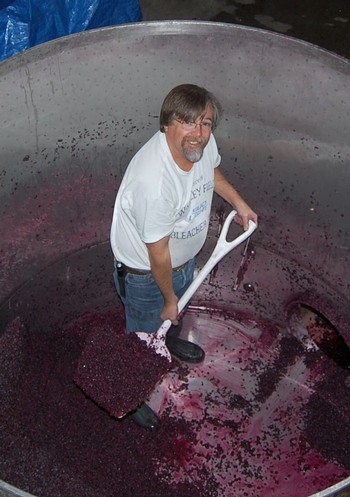 Duane Dappen moved to Eldorado County at the age of nine. Growing up in Gold Country, he participated in 4-H throughout high school. Duane raised steers, bees and even worked on a home wine making 4-H project in his senior year. In his spare time, Duane began assisting his father with beekeeping duties - moving and checking bee hives and running the 'Honey House.' With a mixed background in science and agriculture, he decided that UC Davis' esteemed wine making program might be a logical direction.
After graduating from UC Davis, Duane went on to work as a Cellar Worker at Grgich Hills. There, alongside four other UC Davis graduates and Mike Grgich, he learned about the critically important winery production process - cleaning barrels, pump overs, lugging scores of hosing, racking wine and the multitude of additional chores that must be done to produce a fine wine. Grgich Hills was a solid place to begin a wine-making career because he was surrounded by passionate, innovative peers and shown what it takes to build a great wine.
In 1989, Duane became Cellar Master at Jerry Seps's Storybook Mountain Vineyard. He oversaw nearly all production aspects at the winery and started to realize the potential of a small estate-grown winery.
In 1993, Duane moved to Rombauer Vineyards and Frank Family Vineyards where he began as Cellar Master but quickly rose to the Assistant Winemaker position. Because Rombauer also functioned as a custom crush facility, it was a unique opportunity to work with a wide spectrum of varietals, wine making styles and a multitude of respected winemakers.
In 1998, he became head winemaker at Frank Family Vineyard. Here Duane produced an amazing array of wine brands, including Frank Family still and sparkling wines and many different boutique wineries.
During these years, Duane founded his own wine brand: D-cubed Cellars, producing Howell Mountain Zinfandel. In 1999, George Bravante brought his grapes to Frank Family Vineyards to make wine. Since Duane was already producing his own wine from Howell Mountain, George entrusted him to oversee the production of Bravante Vineyards wine. Duane started wine making for Bravante Vineyards in 2000 with the first vintage from the Stone Ridge Vineyard. With these grapes, he started the complex and elegant style which we produce to this day.